R 1250 RT
From RM 134,500*

*The price shown is based on manufacturer recommended selling price with 10% SST, excluding insurance and only valid in Peninsular Malaysia. Please refer to BMW Motorrad Authorised Dealer for shipment cost to East Malaysia. All prices, availability and specification are subject to change without notice by BMW Motorrad Malaysia.
All motorcycles are supplied only with equipment required by law (e.g. reflectors as per Euro 4 standard). Illustrations on this website may differ from this.
THE NEW BMW R 1250 RT.
Do it your way.
The new BMW R 1250 RT gives you freedom, and more of it than ever before. The variable camshaft control system BMW ShiftCam ensures superior running smoothness and comfort. For swift cornering and immense torque on the straights. The new Twin-cylinder Boxer engine and its 100 kW (136 HP) 1250 ccm engine let you effortlessly experience the countryside. And your RT is unique thanks to new individualisation options: it's your tour, it's your bike. 
Download Brochure
R 1250 RT

PDF   |   6.73 MB   |   English
THE DESIGN OF THE R 1250 RT
Your tour, your style.
The three standard colours of the R 1250 RT and the two high-quality Option 719 colours will turn heads on every tour. They underpin the dynamics of the machine. And create a powerful, engaging presence.
Carbon black metallic
Cultured and elegant – that's the Style Elegance. And that's exactly what it looks like.
Mars red metallic / Dark slate metallic matt
The Sport style in Mars red metallic and dark slate metallic matt refines the RT – for confident travels and a sporty look.
Alpine white
Light and elegant: Alpine white allows you to clearly identify with the sporty side of the R 1250 RT.
Opt. 719 Blue planet metallic
The colour Option 710 Blue planet metallic enables you to give your bike a personal touch.
Opt. 719 Sparkling storm metallic
The traditional handlining with the Option 719 Sparkling storm metallic paint job makes your bike unique.
3 years warranty.
Ride on & on & on. We`re giving you an extra year. 
Now there's a 3-year warranty on all motorcycles. 

266
kg max. load (with standard equipment)
BMW R 1250 RT before sunrise
Twin-cylinder Boxer engine
Built for touring.
Built for touring.
Anticipation and excitement are the most beautiful companions on any tour. With the start of your R 1250 RT, you can feel the superior qualities of the Twin-cylinder Boxer engine. Its performance and enhancement in character of runningfascinate in every engine speed range: the variable camshaft control BMW ShiftCam ensures a smooth unleashing of power throughout the entire engine speed range and boosts your control. Thanks to more cubic capacityand more power with more efficiency, your riding pleasure intensifies mile upon mile. The high torque curve, the elasticity and the irresistible power with fewer gear changes quickly become indispensable companions. 

+ Read more
Experience the sound of the new R 1250 RT
Dynamic Brake Control.
Dynamic Brake Control.
DBC assists you in emergency braking by counteracting the often unwanted gas operation in such an exceptional situation: a control intervention reduces engine torque and at the same time the system increases the braking power at the rear wheel. This results in increased safety and optimal use of braking power to stabilise your bike and shorten the braking distance. For a feeling of supreme confidence when touring. 

+ Read more
THE HIGHLIGHTS OF THE R 1250 RT
Dynamic ESA of the latest generation.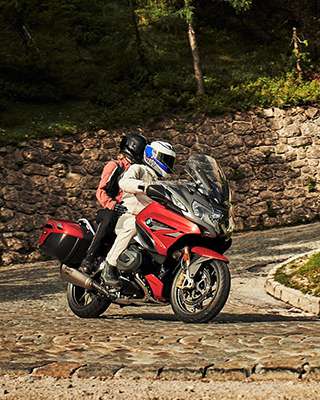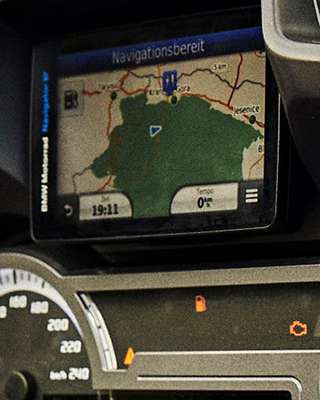 The daytime running light.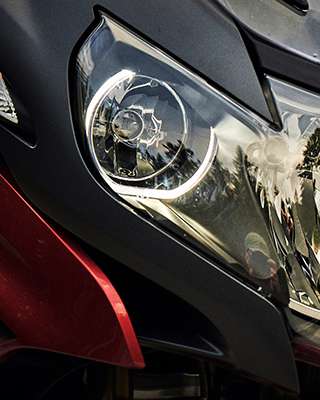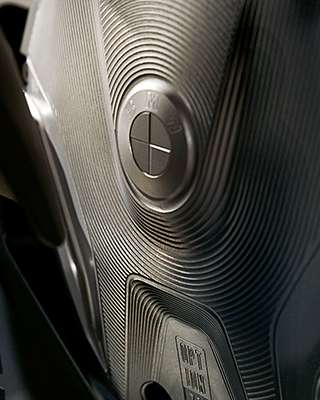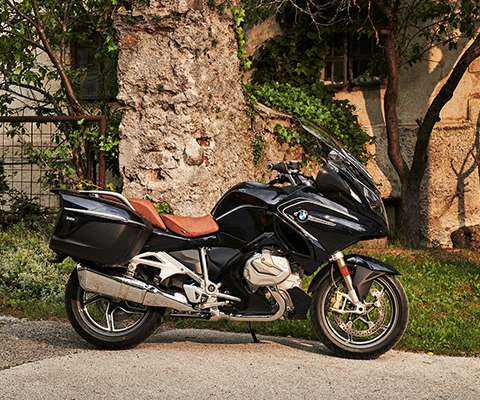 Intelligent emergency call ECALL.